You or someone you know may be pregnant and navigating potential options and resources. This guide was created to share accurate, non-judgmental information that may be helpful in accessing an abortion in New Mexico.
Confirming Your Pregnancy
As you consider what might come next, it's important to verify a pregnancy—then confirm the pregnancy timeline.
To confirm a pregnancy, you can buy a pregnancy test at most pharmacies, grocery stores, or dollar stores, then test your own urine at home, or somewhere you can have a more confidential and safe few minutes. Anyone can buy a home pregnancy test, including people under 18.
If you go to a clinic or provider to confirm a pregnancy, they will likely order a blood or urine test. If you already have a provider you trust, you can see them for care in this situation. If you can get to a New Mexico public health office, you should be able to get a low-cost or free pregnancy test done there.
Generally, blood tests will have accurate results as early as a week from the last missed period. Urine tests should have accurate results about two weeks from the last missed period or since sex* that may have resulted in pregnancy.
* We acknowledge that people become pregnant from consensual sex and non-consensual sexual violence. In this guide, we refer to the sex act that resulted in a pregnancy as sex.
It's important to note that, in New Mexico, people over the age of 13 have the right to seek confidential reproductive healthcare, abortion care, contraception, and mental healthcare without parental notification or consent.
After a positive pregnancy blood or urine test, it is important to figure out how far along you are in the pregnancy.
This might look like scheduling an appointment with a provider to determine this timeline, or if you know your menstrual history and dates of sex* with certainty, you may be able to figure out the pregnancy timeline yourself.
If you already made the decision to have an abortion, you can go directly to a provider or clinic that offers abortion care. They will establish your pregnancy timeline and outline your abortion options.
A provider visit to confirm a pregnancy may be free, low cost, covered by NM Medicaid or other insurance, or paid out-of-pocket.
For more information on payment options for pregnancy-related care or abortion care, see the coverage and payment section.
Using Medicaid or other insurance will trigger an Explanation of Benefits (EOB) about your visit being sent to the address on record. See more on EOBs and possible risks related to your confidentiality.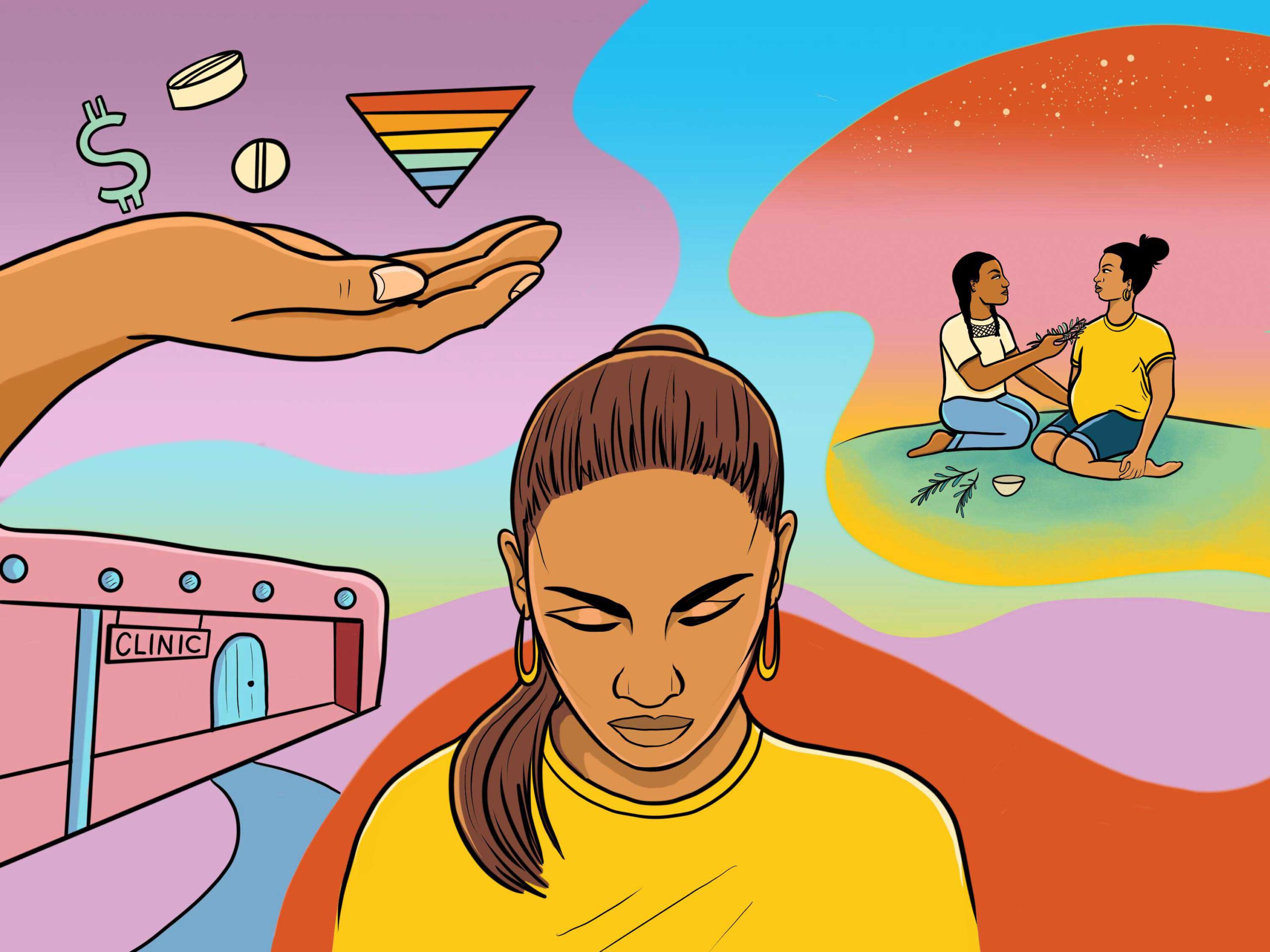 The only reason not to have an abortion is if you don't want to have an abortion.
CONSIDERING YOUR OPTIONS and OPTIONS COUNSELING
Pregnancy options may include continuing the pregnancy and becoming a new parent or adding to your family; having an abortion; or moving toward an adoption. Ideal care centers the pregnant person, their situation and needs. Pregnant people should never be coerced towards any decision.
Pregnant people should have places to find unbiased, non-judgmental, accurate information about pregnancy and the full-spectrum of pregnancy options available in New Mexico. Some providers offer something called Options Counseling, which might include education, resources, and/or referrals based on the person's pregnancy decisions. Options Counseling does not always provide a space for people who truly are still in the process of making a decision about next steps in their pregnancy.
The options information you get will likely depend on where you go. For example, staff at an abortion clinic may provide compassionate space for you to discuss abortion, but they will likely not be good resources for adoption if that becomes your decision. People and organizations that don't believe in abortion are known to gear their "counseling" towards adoption or keeping a baby. New Mexico, like most places, needs more resources, care, and counseling along a spectrum of pregnancy decisions.
You may find Options Counseling through your usual provider, at an abortion clinic, through online/hotline services and more.
For some considering abortion, complexities and emotions may come up. Trusted therapists or mental health professionals, family, friends, and religious leaders can be good sounding boards.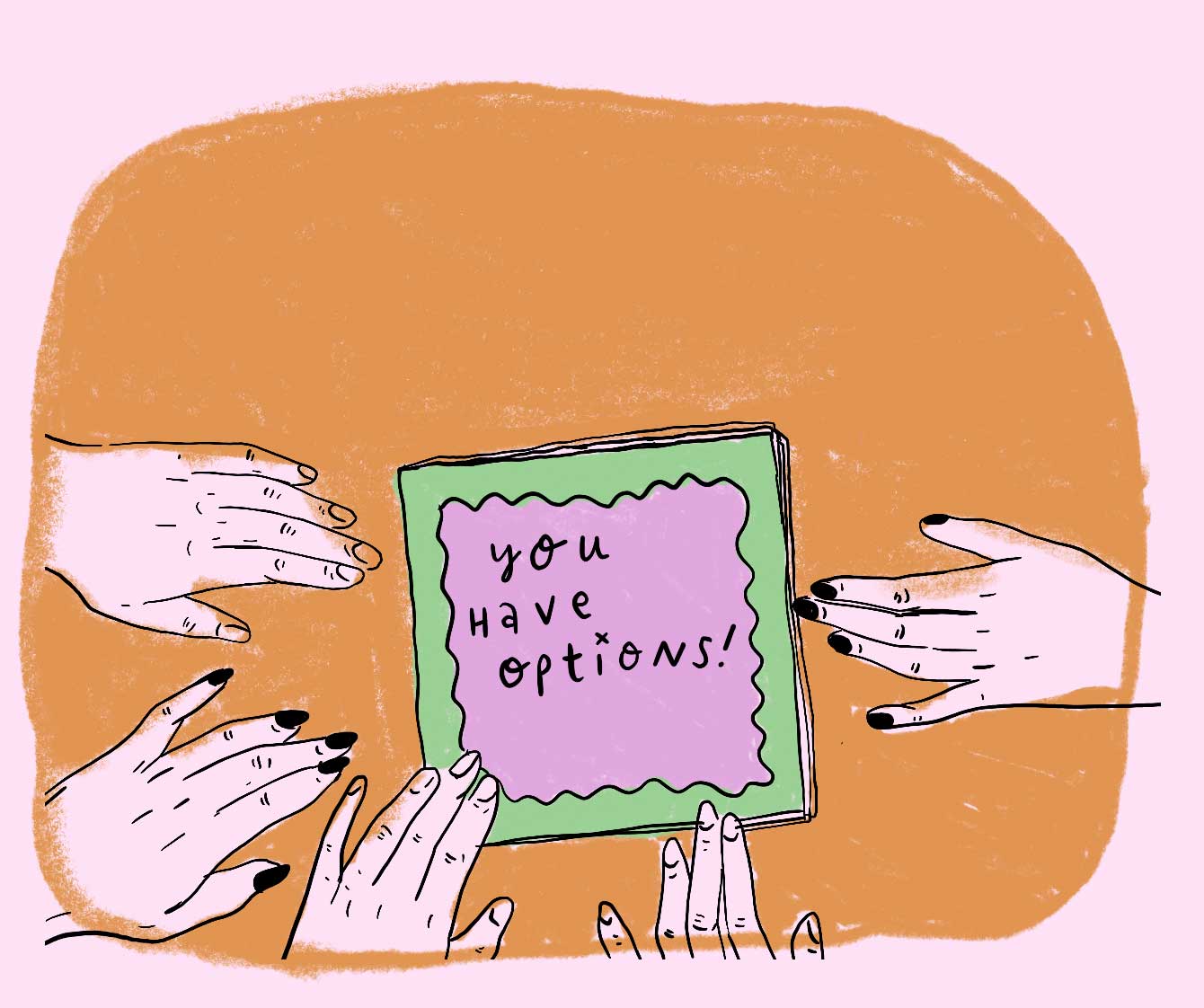 It is our hope that healthcare providers deliver compassionate, non-judgmental, expert support. Professional staff should understand that pregnancy decisions can be complex and deeply personal, or simple and straightforward. Remember, you have the room and right to seek different providers and more information, as well as a place of care that fits your needs.
Keep in mind, there are centers that advertise free pregnancy testing and other free resources but do not provide unbiased options counseling or actual healthcare services. Instead, they operate to change the minds of those considering an abortion. These "Crisis Pregnancy Centers" are not real healthcare clinics. Most do not even have healthcare staff. These "fake clinics" use manipulative tactics as well as misleading and inaccurate information to try and dissuade pregnant people from deciding on an abortion.