Navigating coverage and payment options for abortion can be overwhelming.
Pregnant people might have more to consider than just the cost of an abortion itself. Practical needs like transportation and childcare can be difficult to figure out; costs like gas or flights and hotels become expensive quickly for people coming from rural New Mexico and out of state.
The cost of abortion care varies by your pregnancy timeline and the type of abortion you need, as well as the provider/clinic. Generally, you will need to contact your provider/clinic directly to ask about your cost of care.
In New Mexico, the cost for a medication abortion (abortion with pills) can be from $350-$600+ when paying out of pocket. The cost of an abortion through a medical procedure varies depending on the pregnancy timeline and increases the farther along the pregnancy is.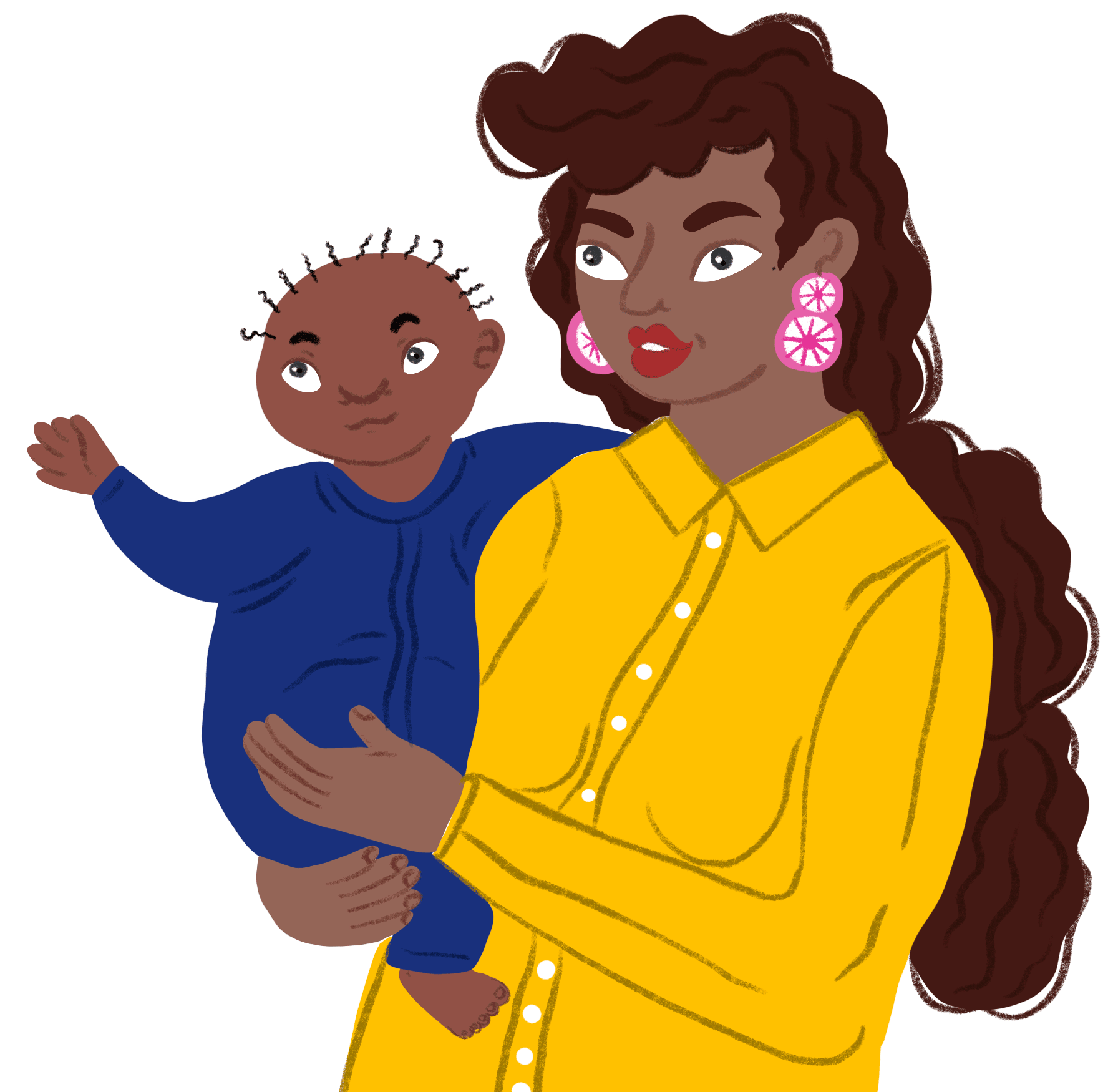 Insurance Coverage for Abortion
Abortion is healthcare. Unfortunately, the stigma around abortion and the legacy of harmful federal bans on abortion coverage means that abortion is not always covered by insurance. Limitations on insurance coverage depend on the type of insurance you have.
You may be the plan holder or access insurance coverage through a spouse, parent, or guardian. Types of insurance include: plans through a job/employer, the state's health insurance exchange, or through the federal government (Medicaid, Medicare, military, healthcare offered through Indian Health Service, etc).
Does NM Medicaid Cover Abortion?
YES – If you have New Mexico Medicaid, abortion is covered.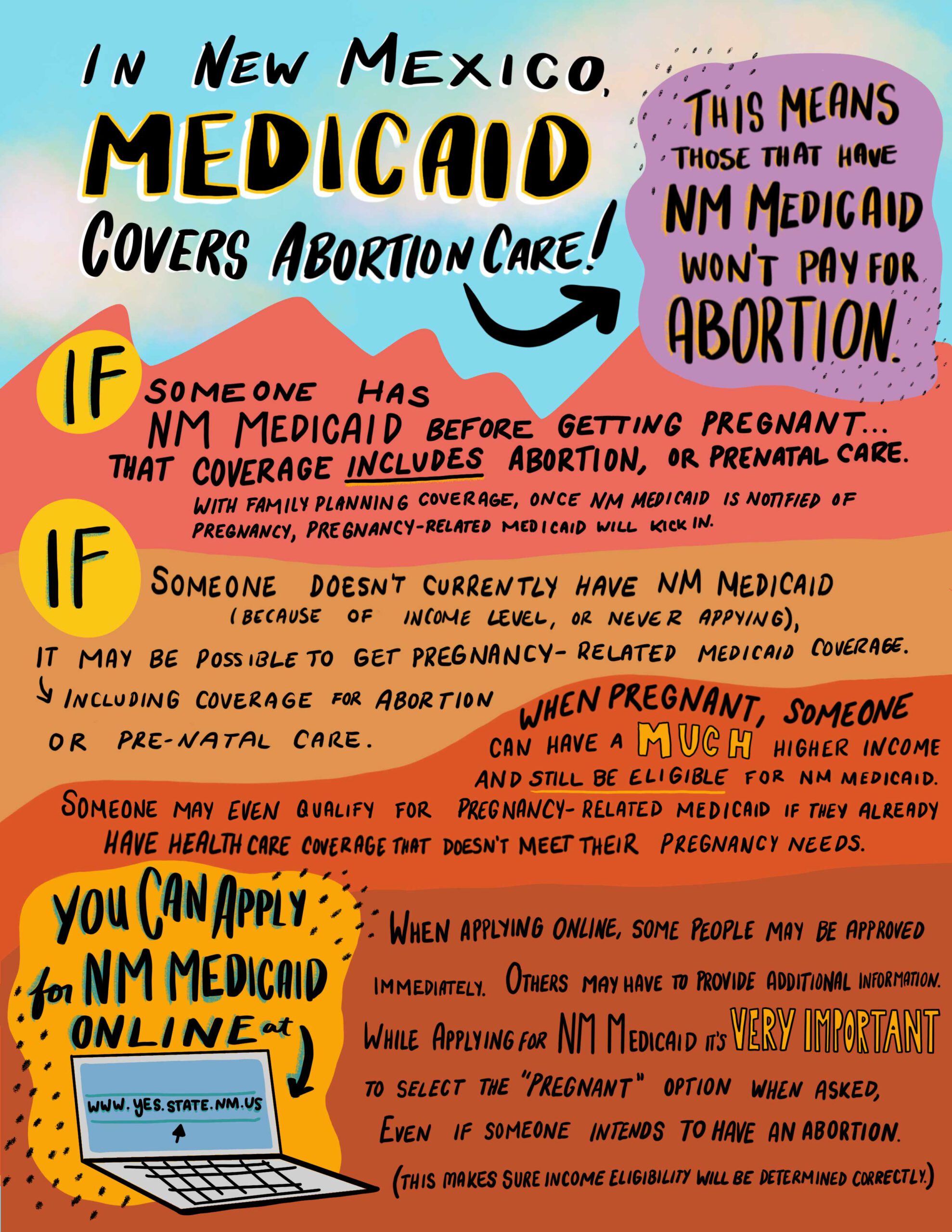 If you do not have insurance available through your job/employer, spouse, or parent, or if your insurance coverage is not sufficient, you may be eligible for New Mexico Medicaid.
There are three requirements to qualify for Medicaid:
Be a resident of New Mexico
Be a U.S. Citizen or in an immigration status that qualifies. Most lawfully residing statuses, except for Deferred Action for Childhood Arrival qualify for Medicaid if an individual is pregnant. This includes people with green cards, work permits, pending and approved applications for asylum, trafficking, Special Juvenile immigration status and more.
Meet income requirements. Income requirements to qualify for Medicaid are based on the Federal Poverty Level (FPL) and the number of people that are part of your household. For New Mexico's Pregnancy-Related Medicaid program, you are eligible if you make up to 250% of the FPL.
| Household Size | 250% FPL (Monthly) | 250% FPL (Annual) |
| --- | --- | --- |
| 1 | $3,038 | $36,456 |
| 2 | $4,109 | $49,308 |
| 3 | $5,180 | $62,160 |
| 4 | $6,250 | $75,000 |
| 5 | $7,321 | $87,852 |
| 6 | $8,392 | $100,704 |
| 7 | $9,463 | $113,556 |
| 8 | $10,534 | $126,408 |
| 8+ | +$1,071. for each person | +$5,148 for each person |
Emergency Medical Services for Non-Citizens
If you have a medical emergency that requires an abortion, Medicaid can cover those costs even if you are undocumented or in an immigration status that does not normally qualify for Medicaid. You still need to be a state resident and meet income requirements. A social security number is not required to get these benefits.
You can apply for NM Medicaid: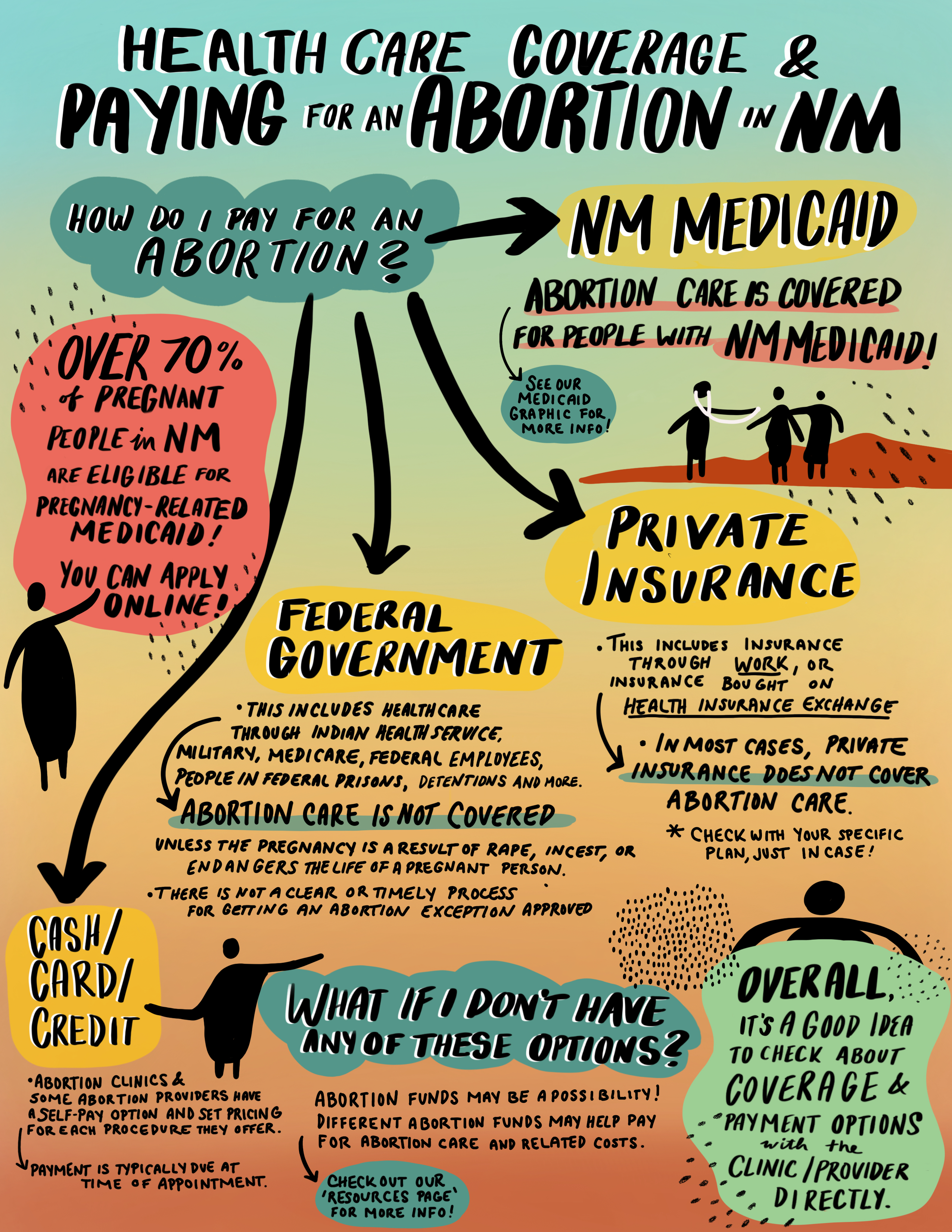 Private Insurance
For the most part, private insurances, insurance through your job or through the insurance exchange, do not cover abortion care. You can check with your particular plan just in case. If you share a plan, make sure you feel comfortable with the confidentiality risks in using insurance. For more information, read below on confidentiality and explanation of benefits.
Do Federal Entities or Plans Cover Abortions?
Anti-abortion congresspeople have put the Hyde Amendment in every federal spending budget since 1976. The Hyde Amendment prohibits federal dollars from being used for abortion (through coverage and/or health services) unless the pregnancy is a result of rape, incest, or it endangers your life. These federal bans on coverage continue to impact people who access care through federal entities.
Click through for more information on abortion as it relates to Indian Health Service or healthcare coverage through the military.
This federal ban does not apply to New Mexico Medicaid, which covers abortion through the use of state dollars.
Getting an Abortion and/or Reproductive Healthcare Without Insurance
If you are not eligible for New Mexico Medicaid or don't have other insurance, you will likely have to pay for an abortion on your own. If you can't afford the entire cost of abortion or related expenses like transportation or housing accommodations, there may be assistance available through an abortion fund. There are also some providers like Planned Parenthood that offer sliding scale care when you are paying out of pocket.
New Mexico law has protections to help prevent medical debt:
It requires healthcare facilities, like hospitals and freestanding Emergency Rooms, to screen patients without insurance to see if they qualify for Medicaid or another public program that can help cover the costs of medical care.
It prohibits low-income patients from being sent to collections or being sued over medical debt. Individuals are considered low income if households turn in a form or attest to income below 200% of the federal poverty level. Healthcare providers have to check if you are low income before sending you to collections or suing you over medical debt. You can use this form (English) (Spanish) to report that you are low-income.
For other reproductive healthcare like pregnancy testing and sexually transmitted infection testing and treatment, you can visit Title X public health offices for free or lower cost care.
If I use insurance, will my abortion be confidential? Will other people on the plan (like parents or spouses) find out?
Confidentiality and Explanation of Benefits
Confidentiality can be a concern when using insurance coverage including Medicaid, especially on shared insurance plans.
After an insurance company pays on your behalf for medical appointments, labs/tests, services, etc., they are required by law to send out an Explanation of Benefits (EOB).
For example, if you see a medical provider to find out if you're pregnant, and you use insurance for the appointment, an EOB will be sent after your provider visit.
An EOB is NOT a bill.
An EOB is typically sent through the mail to the address listed with the insurance provider. This can mean, if you have insurance coverage under a spouse or parent, EOBs are sent to the address your spouse or parent has listed with their insurance. They will be addressed to the person who received the service, but that may not be enough to protect your privacy. A spouse or parent may open the EOB and find out about any visit to a medical provider or payments made by your insurance company related to care you received.
EOBs may also be sent via email, but receiving EOBs through email is often a service that you must request and not all insurance providers have this option.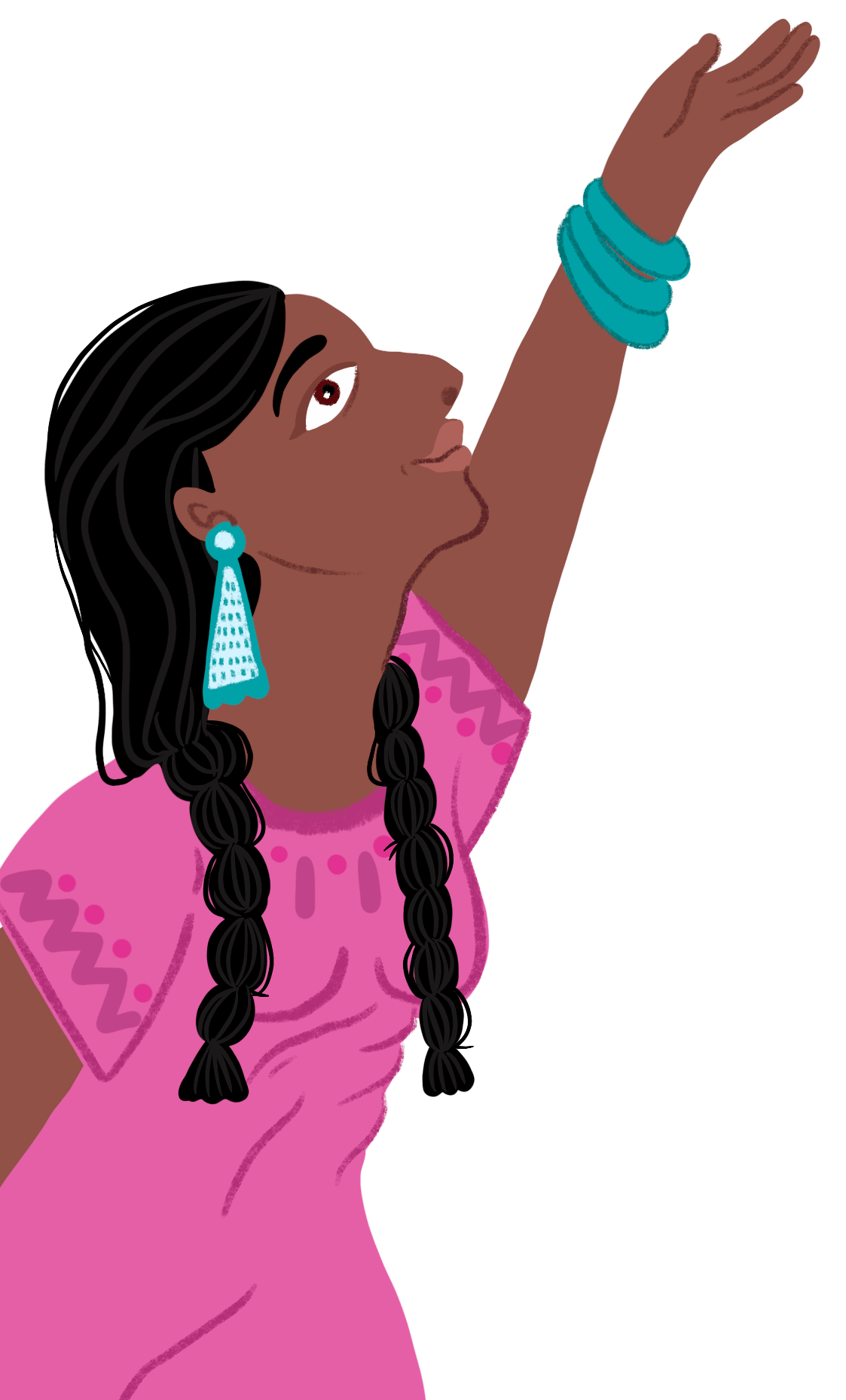 Abortion funds support pregnant people with costs related to abortion. Depending on your needs and their own available resources at the time, many abortion funds will pay part or all of the cost of an abortion. Depending on your unique circumstances and their resources, some abortion funds also offer practical support to cover expenses associated with getting an abortion, like transportation, housing, childcare, etc.
You will likely need to know your pregnancy timeline (how far along you are) and may need to have an appointment scheduled prior to reaching out to an abortion fund for financial assistance. Abortion funds each have their own application processes and may require proof of need, along with other information.
There are abortion funds that offer support to New Mexicans and funds that support callers in coming to our state to access abortion. Typically, these funds are for people who could not afford to get an abortion without the support of a fund. In New Mexico, funds exist to support undocumented people, Indigenous people, young people, and other highly impacted and under-resourced communities.
For more on abortion funds and to find abortion funds in New Mexico, check out our Resource Page.